I've seen tons of lists and forms to help with meal planning and I've pinned or downloaded many of them.
The thing about coming up with your own meal plan is that you have to come up with your own meal plan.
You have to figure out what ingredients you need for each meal and write them all down and not forget anything or you will be running back to the store later in the week. That doesn't really work for me! Plus, trying to come up with new things is difficult at times and it's just easier to go with the same old stir fry or tacos from week to week. Meh.
I'm not sure where I first heard of eMeals, but I was immediately interested. We decided to try it out as a kind of new year's resolution and haven't looked back! We try to do 5 out of 7 dinners at home every week, at least.
Now I will be straight up and let you know that there are some affiliate links here. I seriously love this program so much and have told people about it since we started, so I figured it would be silly not to check if they had an affiliate program. Do with it what you will. To make up for it, here is a gif of Ryan Gosling in a grocery store: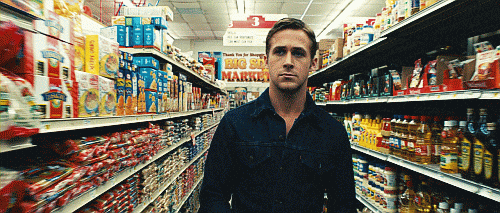 Also, here is a promo code for 15% off your first eMeals dinner plan order! DINNER15
How meal planning with eMeals changed my life:
▲ I no longer wander around the store, not really knowing what I am looking for and somehow coming home with things for only parts of meals. Oh, you mean you never forget to grab milk or eggs?
▲ When Dan and I shop together, it's great to know what we are looking for so we can both look for stuff, get it, and get out! Saves so much time at the anxiety inducing grocery store. Also means less arguments over what to get since we have it all figured out beforehand.
▲ I don't have to come up with anything since there are recipes and shopping lists to follow. Completely takes out the guesswork and I don't have to spend time writing anything down (and likely forgetting something.) Which brings me to my next point:
▲ There is an iPhone app (Android, too!) so I don't have to print out or write anything down. You can even check off items on the list as you go! It also lets you add items of your own! I love lists. Love love love lists. If you like to have things down on paper, eMeals also has the recipes and shopping lists available to download and print out!
▲ There are many plans for different diets and preferences and you can switch once a month. I love being able to change things up! We've tried a few different plans and each has been very good. Also, you don't see the same meal very often.
▲ The food has been really great and easy to prepare! I may occasionally omit or add something, but I love the foundation laid out for me with the recipes.
 We started out with the Clean Eating plan. It's a simple way to eat healthier by removing all processed foods. There are many incredible recipes! Some of my favorites include Chicken Tangine, Spaghetti Bolognese, and Coq Au Vin.
 Since we are doing a diet cleanse for 21 days that requires us to cut all soy and gluten from our diets, we switched to the Paleo meal plan. The only thing we have to keep an eye on is any dairy and added sugars in recipes.
It's simple enough to omit some cheese or trade butter for olive oil. We have tried this meal plan before with good results! It tends to be a bit more expensive than the Clean Eating plan, though.
As I am writing this, it is Day 2 of our cleanse and it has not been easy!! Though we did end up with some pretty tasty meals.
Breakfast: Omelet with red pepper, spinach, ham, and chives.
I usually eat all the parts of an omelet with cheese and leave the parts that don't have any, so I was really worried about eating an omelet without cheese! Turns out all I need to do next time is add more ham. It seems that its savory and slightly salty flavors that I crave! Otherwise the omelet was pretty decent.
Dan and I both had protein shakes for lunch. It's been pretty tough to find a decent protein powder that doesn't have soy or whey (dairy) as a protein source. The one we picked up was not very good. Made the shake taste like unsweetened pancakes or maybe biscuits! Dan of course loved it. I could only manage half a scoop in my shake and added some cocoa powder which helped some. I ordered a chocolate one with good reviews from Amazon, so hopefully that will be tastier.

Dinner was definitely the best meal of the day: Grilled Lemon Pork Loin Chops with Sautéed Cabbage (eMeals Recipe)
The cabbage was especially good!! It was sautéed in bacon grease and there were slices of apples and bacon involved.  The pork also had this great topping of herbs in a lemon and oil sauce. I was doing my happy dance in my chair while I was eating this meal! There is even some leftover which will be great for lunch.
I will be featuring more yummy stuff from eMeals in the future including free recipes! Don't worry, I won't spam you with stuff, but I will share things that I think you will enjoy!
Until next time,
xoxo Nicole